Bennett & Dunn | Rapeseed Oil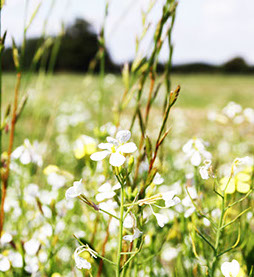 Our Oil has a gentle creamy nutty flavour. It can be used
as a healthy alternative to olive oil for marinades, dipping and drizzling. It also cooks at a higher temperature without effecting the many health benefits, character or taste so is safe to use for you and your family every meal time. Unlike olive oil, It is also ideal for roasting, baking and stir-frys.
Better for the environment...
At Bennett & Dunn we look after the environment by farming in a responsible way. We provide good habitat for insects, small mammals and birds by preserving and planting hedgerows, maintaining ponds, building beetle banks and creating wild flower field margins.
The well being of pollinating insects is crucial to the success of the Rapeseed crop. A local Bee keeper has sited his hives on the Rapeseed fields, ensuring a good harvest enabling Rupert to produce our delicious oil.
By buying Bennett & Dunn Rapeseed Oil you help our environment and support the British Countryside.